The Arizona Symphony Orchestra
Information for Members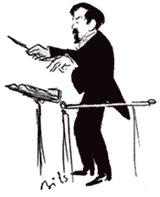 Syllabus Music 200/400/500-O, section 001
Requests must be made online and in advance. You will be sent a response and approval/denial from Dr. Cockrell.
AZ Symphony master calendar is kept on the UA Orchestras bulleting board outside room 168.
Performance history of the Arizona Symphony 1998 to present. For Current season programming
On-line listening
A huge library of streamed recordings is available to UA students through the Naxos Music Library.
If you are on campus:
http://arizona.naxosmusiclibrary.com/
If you are off campus:
http://www.library.arizona.edu/search/subjects/music/genres.html
Click on [NAXOS] under the Classical Music Section. Your UA netID and password will give you access to the Naxos Music Library.
In 1998, the University of Arizona received an endowment on behalf of the estate of the late Naomi Riddle, widow of the famed composer and arranger Nelson Riddle. It comprised the entire personal collection of the legendary arranger and conductor Nelson Riddle's work. In addition, funds were set aside to create the Nelson Riddle Endowed Chair in Music, a position held by Director of Orchestral Activities, Thomas Cockrell.